10.28.2006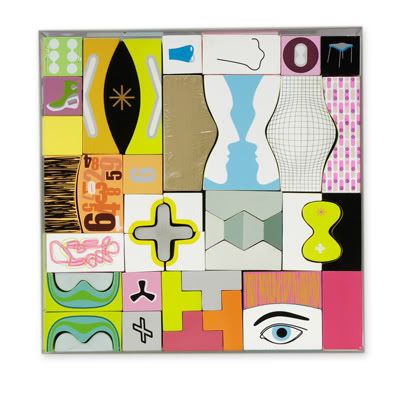 mod*tot is finally old enough to play with her karim rashid kozmos blocks. she spotted them high on a shelf + asked me to bring them down. she's over the gnawing + banging them on every hard surface stage. they are beautifully painted + shaped, but the paint + wood are very delicate. they dent + chip way too easily + they're expensive. i looked into nontoxic shellac or something to give them a durable clear coat without hurting their existing paint, but i chickened out + put them on the shelf.
she builds super high towers + interesting shapes. they'll get messed up, but she won't eat them :)
by
~mod*mom~
at
28.10.06
©
2 Comments:
where did you get them?? does the paint chip off and babycan eat it? how old is mod tot? i have 7 mnth old, wondering if shes too young?
love the blocks!1
thnaks!
emily
i got them in san francisco at a modern furniture store called therapy 2 years ago in the sale section. they were regularly $120. i don't think they're readily for sale anywhere like they used to be. google for kozmos blocks karim rashid. they have lots of shapes in this box. they'd be fantastic if they were durable. lots of shapes.

mod*tot is 3.
have you had your daughter in a door jumpster yet? those are terrific fun at her age. + do you carry her in a backpack? we used the infantino from target + it was wonderful to have her right there where she can see everything + our hands are free.